The MedicWords™ medical spell checker makes sure you spell medical terms correctly, so that you can get the most out of every keystroke!
Try MedicWords before you buy it.
Without MedicWords :(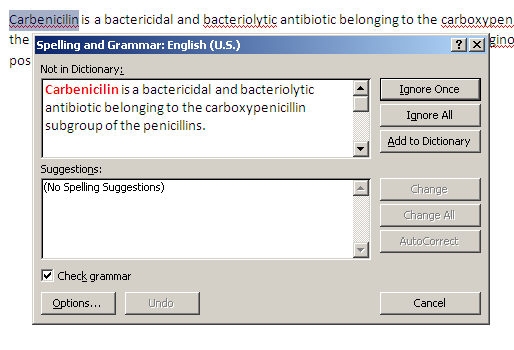 With MedicWords :)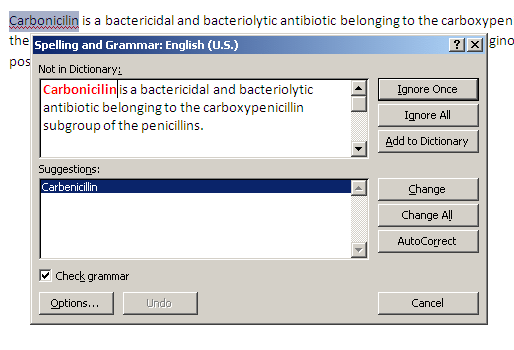 Windows 8
Windows 7
Windows Vista
Windows XP


The
Free Medical Spell Checker
is a simple medical speller that does not integrate into Word but does allow you to quickly look up the correct spelling of many medical terms.
Here are some of the many specialties that MedicWords will spell check:
anatomy terminology
anesthesiology terminology
bacteriology terminology
biology terminology
cardiology terminology
dentistry terminology
hematology terminology
immunology terminology
internal medicine terminology
neurology terminology
nursing terminology
oncology terminology
ophthalmology terminology
pathology terminology
pediatrics terminology
psychiatry terminology
radiology terminology
toxicology terminology
urology terminology
more..
Try MedicWords Before You Buy It!
Microsoft Word is an excellent word processor, but if you prepare medical documents and use medical terminology you've probably noticed that the built-in spellchecker doesn't work very well on medical terms.
MedicWords improves the spell checking capabilities of Microsoft Word. With MedicWords you can spell check medical terms as you type.
The MedicWords medical spell checker has helped thousands of medical transcriptionists, medical students, universities, hospitals, doctors offices, law firms, insurance companies and many more!
After you install MedicWords you won't need to spend a lot of time looking up medical terms in a medical dictionary or a medical speller to verify correct spelling.
MedicWords is priced well below other name brand medical spell checkers such as Spellex and Stedman's.